Primos Garage Doors was established in 1998. With over 20 years of experience in the industry, we have built our local, family-owned business from the ground up! We pride ourselves in our quality workmanship and great business relationships we have built with our customers over the years in Boulder, Lafayette, and Front Range. We are a swift, efficient, honest, and affordable garage door company that services both residential and commercial door operators. We work diligently to be your first choice in garage door installation and repair, and we know you'll be happy with our five-star service!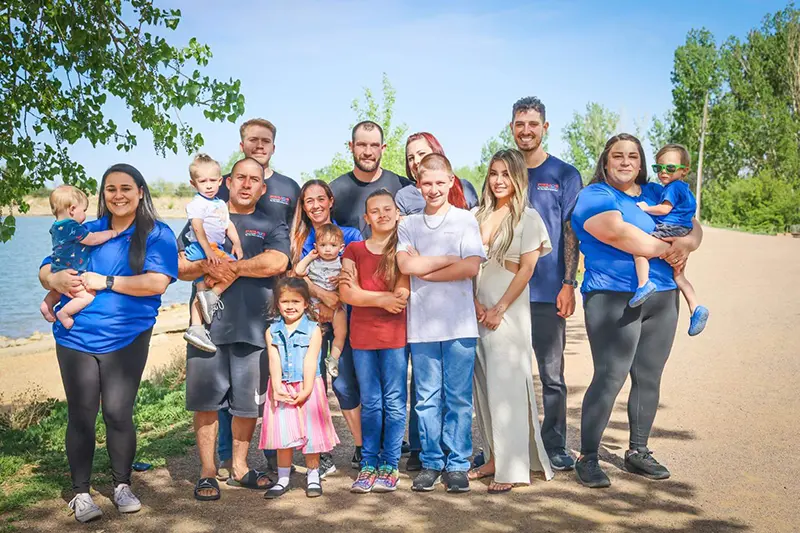 We service Boulder / Louisville / Superior / Lafayette / Erie / Brighton / Broomfield / Westminster / Thornton / Northglenn / Arvada / Golden / Front Range. If you are in need of a brand new door, tune-up, or repair, we can help! We are here to help you with affordable, dependable, and speedy work! There's no selling of unneeded or unwanted products, and no hidden charges or fees. We're ready to work with you on your next residential or commercial project. Thanks for stopping by!
"*" indicates required fields
See What Our Customers Have To Say...
"Garage door broke I asked Google 4 garage door repair place within a minute they called me. 2 hours later they were giving me an estimate. And the next morning they replaced my old garage door with a really nice quality garage door. Amazing customer service and the installers were very friendly. Would definitely do business again!"
"Good craftsmanship. Arrived on time. In and out in the prescribed amount of time. Polite. Competitively priced. Would recommend."
"I recommend this business if you need a garage door repaired. Our garage door broke around 9pm. Mr. Perez responded to my call immediately & was able to come fix it first thing the next morning. Mr. Perez was punctual, professional, and did an excellent job. Cost of repair was reasonable & there were no surprises or hidden costs."
"The spring on our garage door broke and I was 'trapped' at home. They came out quickly and now the door is fixed and so quiet!
Would recommend them for excellent customer service and attention to detail!
"
"Highly recommend. Toby came out and had my door repaired in less than 2 hours from my original call. Great quality, fair price, and honest treatment.. what more can you ask for. Thanks PGD."
"My garage door would not open and it was a Sunday. I called and Toby was there within an hour of me placing the call. My garage needed new springs. He was able to diagnose problem within 5-10 minutes. He fix it and also was super professional, knowledgeable and kind. Highly recommend!!!!"
"My garage door suddenly would not close all the way. Toby came out right away and repaired the problem. Very professional service, friendly and thorough. I highly recommend the company."
"They were courteous and friendly and answered my questions without coming across as condescending or irritated. The work was completed rather quickly in my opinion. I am very happy with their work."
"Toby responded quickly was on time, diagnosed the issue quickly and quoted a fair price. His crew arrived on time and completed the job professionally and st the price quoted. Two other local shops didn't return my calls. Highly recommend PGD"
"Toby is quick to respond and very knowledgeable! He is also very friendly. I trusted him and was very thankful I did. He did a very thorough job of fixing our garage door and then he even changed the light bulbs for free! I would highly recommend Primo's Garage Doors and Toby for any garage needs!"
"These guys did a great job. They showed up as scheduled and gave me a great estimate and took care of it that day even. Now my garage is as good as new. My only regret is that I didn't call these guys first."
"Did what he said he would do when he said he would. Knew the opener well enough to quickly refresh the opener "coding" to see if it had become defective. It had and the refreshed code allowed my opener remote to open the door. Voila!"
"Toby was knowledgeable and extremely friendly. If I have issues with my garage door again, Toby will be the first person I turn to."
"Very professional. Toby went right to work and got the job done. Highly recommend them. When he called to set up the appointment he asked what I needed and he made sure that he had the supplies so that he could get the job done."
"Toby went above and beyond to make an un-square garage look like a million bucks! He removed the old rotten wooden door, reinforced the header, brought in the sides to make it square and produced a wonderful final result. We are extremely pleased and would highly recommend them."
"Toby was awesome! Called me within a minute of me completing the HomeAdvisor entry! He came all the way to Estes twice while we were there on vacation to finish the job. It was a pleasure doing business with him. And the door works great now."
"The company is great. Very honest pricing and 100% satisfied. Great friendly and knowledgeable employee Mark was there to explain to me what needed to be done and after the job was done, he showed me all the old parts he replaced and fixed. If a customer wants a great company for their garage door problems don't hesitate to hire PRIMOS GARAGE DOORS you will be very happy with them. Thanks so very much Toby, Mark is a great employee."
"Extremely personable and an absolute pleasure to work with. Always responsive and quick. Made sure we got the quality project we needed for our tough mountain environment. Installation was on time and very professionally done. I have to say this about Toby – if all contractors could come up to his very high standard of excellence, this would be a better world to live in. Thank you Toby for a job extremely well done. We could not be happier."
"Great company! Came the same day and gave us an estimate. Did everything they promised at a great price and in our time frame!"
"Was impressed by their willingness to come out the same day to diagnose my garage door problem. Price was fair so I hired them and they said that they could come out next day between 6 and 8 pm. Said they were running late and couldn't come out until 9:30pm. Not happening. They upgraded the garage door parts for my trouble and we finally got it completed the next day."
"I had a garage door put in an old 1930's era garage. He had to rebuild the frame, haul off old material and install the new door. Did a wonderful job and finished it in one day. He even made it better than we thought by removing a center pole that we thought had to stay and putting a better top beam in. Very pleased and would recommend Primos to anyone."